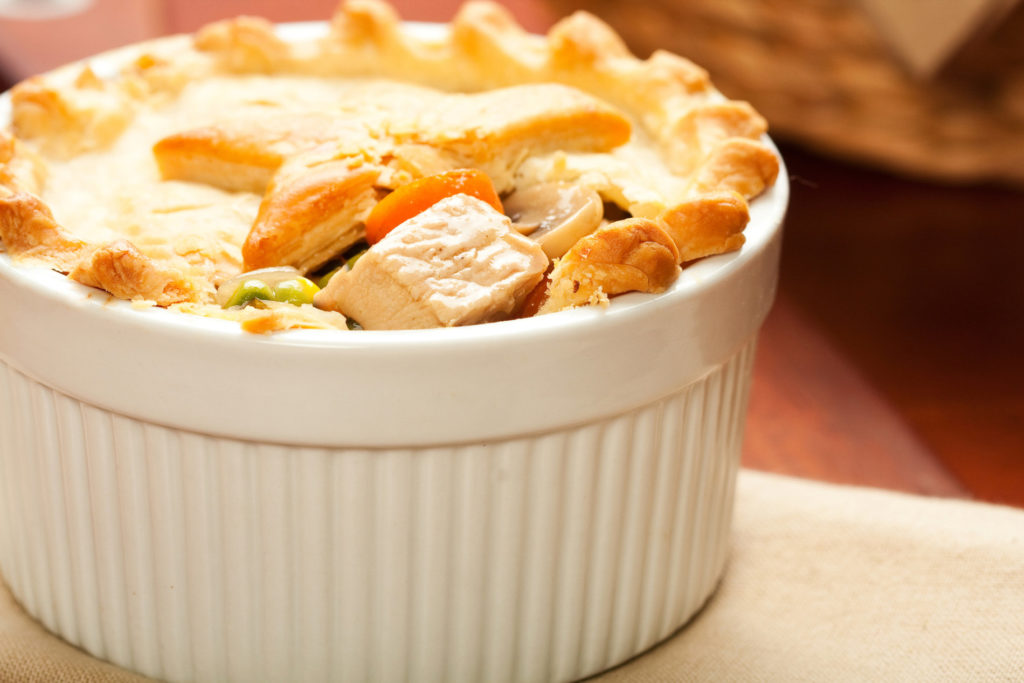 Mouth-Watering Recipes (That Also Happen to Be Healthy)
The cold months of the year bring to mind fireplaces, comfy sweaters, time spent with loved ones and best of all… Amazing food! Before you start worrying about your waistline, did you know that most recipes can be made healthy with just a few small tweaks? In fact, these recipes are so good that you'll be wondering where they have been your whole life! Plan ahead for your next get-together or simply enjoy these recipes whenever you're feeling something a little bit fabulous and a lot of delicious. 
Classic Chicken Pot Pie
2 Servings | 1 Thermo-Snack, 1 Protein, 1 Vegetable
Recipe by Bruce N. 
Nothing is more quintessentially "comfort  food" than a classic chicken pot pie! This recipe packs in creamy richness with delectable vegetables all wrapped in the most delightfully crunchy crust. 
1 teaspoon garlic, chopped
⅛ teaspoon black pepper
⅛ teaspoon rosemary, chopped
2 servings of Vegetables (Carrots, Green Beans, Celery, Onion)
1 package Creamy Chicken Noodle Soup mix
1 package Old Fashioned Stack Pancake mix
10 ounces chicken, diced
Preheat oven to 350 °F. Saute vegetables and spices until cooked through. In another pan, saute chicken until cooked and combine with Creamy Chicken Soup mix. Mix Old Fashioned Stack Pancake mix with water. Cover the bottom of two ramekins with pancake mixture. Add ¾ cup of cooked vegetable mixture and one serving of chicken. Cover the top of the ramekins with the remaining pancake mixture. Bake ramekins for 23-30 minutes until crust is golden brown. Remove from oven and enjoy!
So-Delicious Dutch Baby
1 Serving | 1 Thermo-Snack, 1 Fruit, 1 Protein, 1 Fat
Dutch babies are the fluffy, thick cousins of the traditional pancake. Paired with a full-bodied raspberry swirl, you will be swatting hungry hands away left and right!
1 package Old Fashioned Stack Pancake mix 
½ cup raspberries
1 tablespoon water
1 teaspoon Stevia Brown Sugar
1 teaspoon butter
2 eggs
10 mint leaves
Preheat oven to 350 °F. In a nonstick pan, cook raspberries over medium heat with one tablespoon water, butter and Stevia Brown Sugar until reduced slightly. Set aside. In a bowl, mix Old Fashioned Stack Pancake mix according to directions. Mix in two eggs. Pour pancake mixture into a small pan and top with raspberry sauce. Swirl raspberry sauce lightly into mixture. Arrange mint leaves in the shape of a tree or a preferred pattern on top. Bake for approximately 35 minutes or until golden brown. Serve while warm. 
Recipe can be multiplied for additional servings. 
Dulce De Leche Cheesecake w/ Strawberry Drizzle
4 Servings | 1 Thermo-Snack, 1 Fruit, 1 Dairy
Many of us have fond memories of after-dinner dessert cheesecake. This recipe takes the traditional flavor we love and adds a special Latin twist that will absolutely delight your guests. It is SERIOUSLY good! 
1 package Dulce De Leche Pudding mix
2 packages Divine Cheesecake mix
½ cup strawberries, quartered
½ cup unsweetened vanilla almond milk
1 teaspoon Stevia 
Mix Dulce De Leche mix and both packages of Divine Cheesecake mix with the recommended amount of water for each. Pour into four parfait glasses and refrigerate for half an hour. In a cup, mash strawberries with almond milk and Stevia. Transfer to a small pan and cook on medium-low heat until mixture reduces to a thin sauce. Drizzle sauce on top of cheesecake parfaits and return to the fridge for another half an hour to cool. Enjoy!