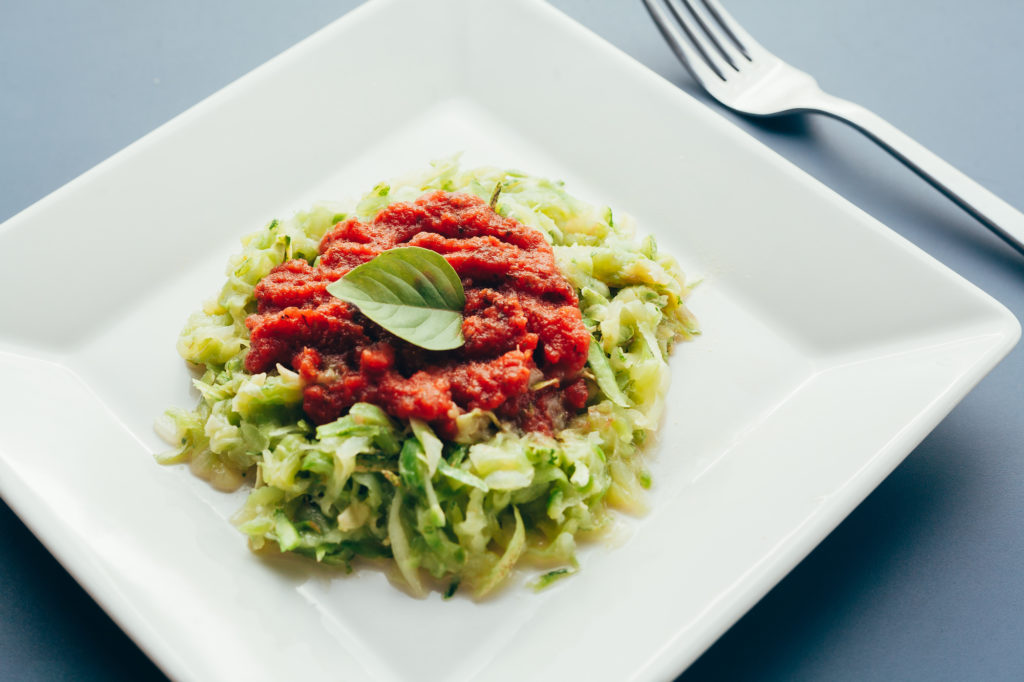 Salute! : Delicious Dishes for Italian Night
It's been a long day and you have a hankering for all things Italian. Bring out the accordion and light the candles because these recipes bring rich and delicious flavor to any pasto Italiano! We love to pair them with a refreshing "cocktail" of Thermo-Boost and sparkling water.
Tip: Make a batch of sauce at the beginning of the week and freeze individual portions to place over your "noodles" or on top of your favorite steamed vegetables. 
Stovetop Spaghetti Hot dish
4 servings | per serving: 2 vegetables
Requires vegetable spiralizer, such as Veggetti
For the Sauce
4 roma tomatoes, chopped
1 onion, chopped
2 cloves garlic, minced
1–2 teaspoons No Salt Italian seasoning
1⁄4 teaspoon Morton® Lite Salt
For the Zucchini "Noodles"
4 zucchini, peeled and spiralized into noodle shape
1 teaspoon fresh basil, chopped
Put sauce ingredients, tomatoes through salt, in a blender or processor and blend until smooth. Add zucchini "noodles" to medium sauce pan and poor sauce over top. Simmer until cooked about 5 minutes. Sprinkle basil over the top and serve.
–
I Can't Believe This is On-Plan Pizza!
1 serving | per serving: 1–2 vegetables, 1 protein, 1 starch
For Pizza Sauce
tomatoes
no-salt pizza herb mix (such as Frontier)
green onions
green pepper, chopped
5 ounces ground turkey fennel seed
ancho chili powder
Morton® Lite Salt
1 low carb pita or 6″ corn tortilla
Toppings (choose your favorites):
green onion, green pepper, mushrooms (shiitake are great), fresh basil, eggplant, tomatoes, spinach, zucchini, chives, cilantro
You can prepare sauce and meat topping ahead of time to have on hand.
Make the Sauce: In a large pot boil multiple tomatoes for 10–15 minutes. Strain out water and let cool in the refrigerator. You can also blanch the tomatoes. Mash cooled tomatoes with your hands until the consistency of sauce. Heat tomato sauce in pot and add pizza herb, green onions and green pepper. Simmer for 15 minutes.
Make the Meat Topping: Mix ground turkey, fennel, ancho chili powder and salt in sauté pan. Brown until cooked.
Broil the tortilla or pita until crispy. Assemble the "pizza" by adding the sauce, meat and toppings. Put back in the oven and broil until brown and heated through (8–10 minutes, depending on your oven).
Enjoy with a fork or cut with a pizza cutter. Crust may be soggy but delicious!