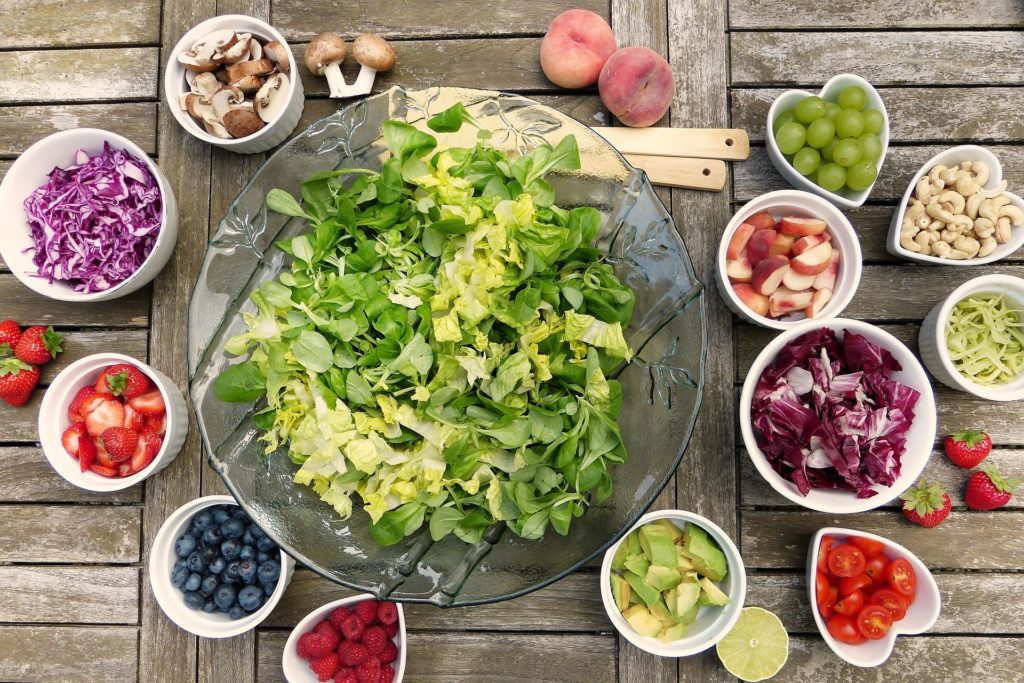 Simply Sensational Salads
The idea of healthy food immediately brings to mind delicious and beautiful salads that are not only healthy but Instagram-worthy. We put together a list of some of the best ways to create nutritious salads that will make meals a beautiful breeze.
Mix Up The Proteins
The quickest way to get bored and fall back into bad habits is eating the same thing all of the time. Not only do your taste buds sigh at the thought of another bite, but the body has something called "metabolic memory" that kicks in when you eat repetitively. Once our bodies get used to a certain set of nutrients, our metabolism works less efficiently to handle the load.
What this translates into ultimately, is a slowing of weight-loss results. The importance of variety is that the body is not able to develop a metabolic memory of a meal and it will work harder to process. The simple way of putting it: Eat different proteins for each meal to keep your metabolism running high.
To make things easier, we like to prepare servings of chicken, eggs, beef, etc. and seal each one in a baggie so that when it comes time to add some protein to a meal, it's as simple as reaching into the fridge and pulling one out.
Tip: For longer shelf life, make enough for two weeks of meals and store half in the freezer. A quick thaw in the microwave and voila, protein!
Vibrant Vegetable Buffet
A recent article delved into the psychology behind why buffets and the sight of food is so enticing to us. One of the key findings is that the visual presentation of a variety of foods releases dopamine into our system. This harkens back to the caveman days when food was difficult to get and serves as a physiological reward for having achieved a biological imperative, to eat. The body is wired to have a positive response to the presentation of food.
Now, let's translate this principle to how we make our salads. At the beginning of a week, take a container with compartments and chop your favorite salad vegetables into each bin. When it comes time to assemble a tasty lunch, you can simply drag out the container to easily pick and choose what inspires you each day.
The results are two-fold. Meals are so incredibly easy to make that weight-loss will be all the easier and you are training your body to have a positive response to healthy foods that will make you smile with how beautiful they are.  
Fantastic Fats
Let us shout it from the rooftops, "Eating healthy fats is a necessary part of weight loss!'". And when in Rome, do as the Romans do. Making your own salad dressing can be a fantastic way to save money as well as experiment with bold new flavors for your foods. We love to make our own dressing with extra virgin olive oil, apple cider vinegar and our favorite salt-free spice blends. If olive oil isn't your thing, we also like to make healthy croutons to add a divine crunch when we are craving carb-y  goodness.
Restaurant-Worthy Croutons
1 serving | per serving: 1 starch, 1/2 fat
4 Melba® Toast
½ teaspoon butter
1 clove fresh garlic
Mrs. Dash® Salt-Free Lemon Pepper seasoning (to taste)
Set oven to broil. Crush the Melba Toast to desired size and arrange on a small baking sheet. Melt butter with the garlic and Lemon Pepper seasoning in a small dish and brush mixture over crushed up toast. Broil croutons on the middle rack for 5-7 minutes until golden brown and remove. Wait 2 minutes and serve when ready.
That's So Sweet
Don't be afraid to add your favorite fruit to your salads to give them a new dimension of flavor. Adding more colors of the rainbow to your plate also means that you are increasing your phytonutrient intake. As you know, phytonutrients are essential chemical compounds produced by fruits and vegetables that can help prevent many of the factors that lead to chronic illness and disease. The more colors you eat, the stronger your health will be. So, like we said, don't be afraid to throw a few blueberries or some vibrant kiwi into the mix for a salad that will make you smile.
Tip: Hate it when your fruit dries out in your lunch? Fold a damp paper towel over the top of your salad to keep it fresh and beautiful until you eat. 
Handful of Herbs
There's no reason to skimp on flavor when fresh herbs are easily available at your local grocery store. Or better yet, grown right in your own garden! A quick handful of fresh basil, cilantro or any other seasonal herb can bring added dimension to your meal to keep your taste buds on their toes.
Herbs also have the additional benefit of being health powerhouses full of vitamins, antioxidants and natural anti-inflammatory compounds. Adding just a few extra ounces of herbs to your diet can help strengthen your immune system and improve your overall health, simply by eating!
Tip: Make fresh herbs last much longer by storing them in the fridge with stems submerged in water and covered loosely with a plastic bag. 
_
Additional Reading
https://www.ncbi.nlm.nih.gov/pmc/articles/PMC5452167/
https://firstwefeast.com/eat/2014/06/science-of-food-and-happiness
http://www.cnn.com/2010/HEALTH/03/28/fatty.foods.brain/index.html
https://www.livescience.com/52541-phytonutrients.html