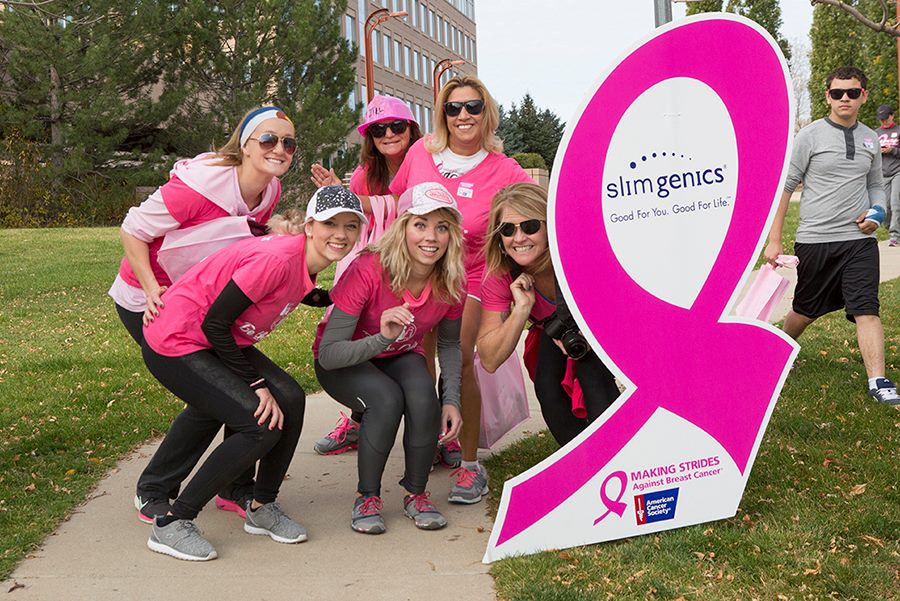 The Top 7 Things to Help Lower Your Breast Cancer Risk
image: Be the One (2015), SlimGenics
Breast Cancer Awareness Month has arrived and as you know, we have been years-long partners with the American Cancer Society to help raise vital funds in the fight to prevent breast cancer. Our yearly Be The One campaign to help raise awareness and prevent breast cancer has been central to our mission here at SlimGenics. Through a few simple lifestyle interventions, you can lower your risk of developing breast cancer significantly. Today, let's join together to explore the top 7 things you can do right now to reduce your risk and help protect your breast health for years to come. 
Eat a healthy diet.
The simplest thing you can do to lower your breast cancer risk by as much as 20% is to enjoy a balanced diet of fresh, healthy foods. Removing processed foods and supplying your body with essential nutrients can do wonders for your health. Not sure how to eat healthily? You're not alone. When you're ready to learn what healthy eating is all about, check out our SlimGenics Weight Loss Programs! Not only are we experts in weight loss, but we are also one of the only programs that provide in-depth education on healthy eating to help you achieve outstanding results and learn how to make them last. 
Reach a healthy weight. 
Here's the truth: Our bodies are not meant to function long-term under the serious stress that being chronically overweight places on our health. Over time, our bodies become less efficient at processing; we develop inflammation, our overall health worsens and then one day you wake up wondering why you feel so terrible all of the time. Reaching a healthy weight is easily the best thing you can do to help lower your breast cancer risk as well as just in general for your overall health. 
"It's too hard."
If I could hold your hand and look you in the eyes to tell you this, I would. Reaching a healthy weight is truly not hard. You only lack the right easy-to-use resources, support and education to show you exactly how easy it can be. That's the exact reason why SlimGenics is here. We are dedicated to making weight loss make sense for you and your lifestyle so you can finally reach a healthy weight and subsequently lower your risk levels for several chronic health conditions. 
We have a team of expert Weight Loss Consultants available to you every step of the way during your journey and some of the most amazing resources to make your weight loss dreams come true. Make a FREE phone or video appointment today to learn more! 
Quit smoking.
We all know this one. On top of a myriad of other harmful effects to your health, smoking can significantly increase your overall risk of developing breast cancer. The very best thing you can do right now to help lower your risk is to develop a plan to quit smoking. Weaning yourself off can take a few weeks for lifelong smokers, but overall, there are many excellent resources for ending a smoking habit. Now is the time. For your health and your family. 
Limit alcohol consumption. 
I can hear it already, "But, my wine!". We've already covered why alcohol is not your friend during weight loss in our blog, Let's Talk: Alcohol and Weight Loss, but let's also talk about how overconsumption of alcohol can significantly raise your risks of developing breast cancer. According to research from Cancer.org, those at a healthy body weight can safely enjoy a glass of wine per day, but it is not recommended to consume more than that, especially regularly. 
Rule of thumb: When you're at a healthy weight, a glass of wine is great. Any more? Drink no more. 
Be more active.
Now is a perfect time to rethink the understanding of the word "active". Instead of feeling as though you need to run an Iron Man to be active, let's understand being active as movement. Just do whatever movement you enjoy, such as dancing, swimming, walking, tennis, stairs and more. For fifteen minutes per day, simply move. Your cardiovascular health will improve dramatically AND you can make meaningful reductions in your overall breast cancer risk. 
Think carefully about using Combination Hormone Replacement Therapy. 
Contemporary research shows a concerning linkage between Combination Hormone Replacement Therapy (HRT) and increased breast cancer incidences. According to Breastcancer.org, Combination HRT increases breast cancer risk by about 75%, including instances when it is used for only a brief time. Before starting HRT for menopause, it is strongly recommended to speak with your doctor and healthcare team about the risks versus the benefits. Together, you can determine your options and pick the best action for you. Every person is different, which is why it is essential to work with your healthcare team to help support you while also considering your risks. 
Schedule mammograms regularly.
This one seems obvious, and yet so many of us struggle with remembering to schedule mammograms amidst our busy lives. Not to worry! You can request that your doctor's office send out periodic reminders about scheduling a mammogram. Or you can also schedule your next mammogram early for this year or next year so that it is done. Most healthcare providers send out reminders beforehand and you can also place the appointment on your device's calendar. In short, once you reach the age of 40, yearly mammograms are a genuine peace of mind in helping to monitor your overall breast health and potentially catch any irregularities early on. 
Talk about breast health with your loved ones.
I just came back from the yearly meeting of all women (kidding) and we decided as a group that we will no longer be shy about breast health. We need to be talking about breast cancer, risks, prevention, treatment, and statistics more often. We need to be able to have these conversations as much as possible to encourage each other to be active participants in breast cancer awareness and help each other normalize caring about our bodies. Talk to your friends and family about breast cancer awareness. Share facts and statistics with each other. Hear the stories of those who have defeated their cancer as well as those who fought bravely and passed. The more we know and the more we share, the better your chances of preventing it are. We care about your health and we want you to be around for many years to come. 
--
The conversation around breast cancer is constantly evolving as new research and resources continue to become available. Let us know what you think! Share an interesting fact! Tell us your story! We would love to hear from you!
Stay Healthy Friends, 
Gabrielle @ SlimGenics