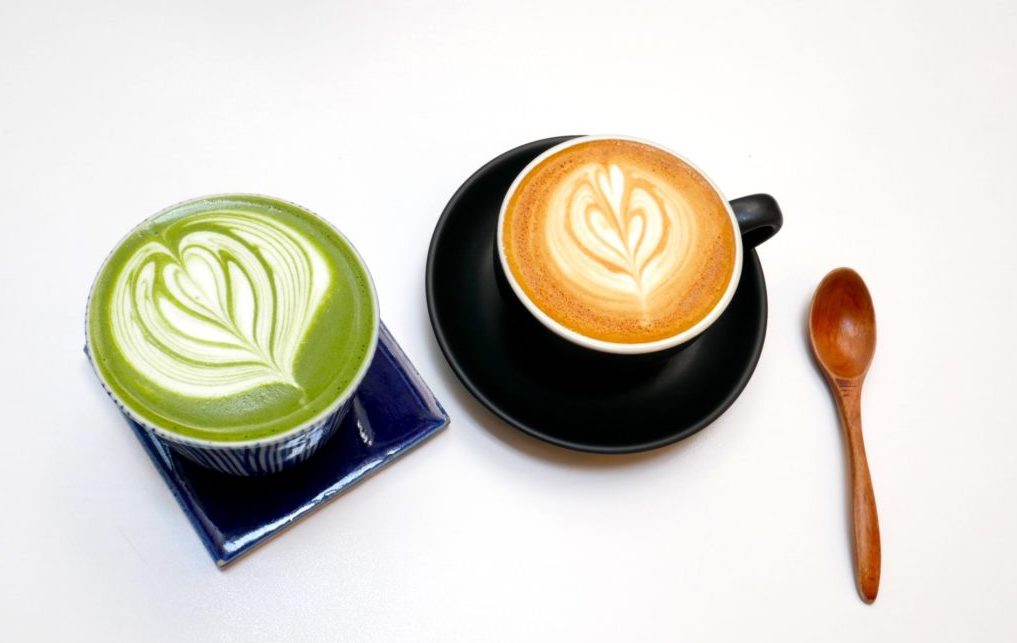 The Ultimate Weight-Loss Coffee-Shop Drink Menu
Vanilla Matcha Latte
This Vanilla Matcha Latte will knock your socks off! It is creamy, rich and full of the antioxidant power of green tea! Remember: There are many matcha powders out there. Find one that is culinary grade and from an ethical source. The flavor will be better and you will get extra antioxidant power. 
4 ounces unsweetened vanilla almond milk
6 ounces water
1 packet Vanilla Delight Shake/Pudding Thermo-Snack
1-2 tablespoons matcha powder, culinary grade
Stevia (to taste)
Matcha powder (as garnish)
In a pan, heat almond milk and water on medium-low until steaming. Add matcha powder and continue stirring until fully incorporated. Add shake mix until mixture has reached desired consistency. Add stevia to taste. Remove from heat and serve warm with a matcha powder garnish. Or chill mixture and add ice for a wonderful iced latte. 
The Iced Classico
Think that coffee has to be all cream and sugar to be palatable? You just haven't been drinking good coffee. Enter: cold-brew coffee. Due to the brewing process, it is usually much lower in acid profile and much higher in overall flavor. Find a flavor profile you like and you'll be surprised by how little you'll find yourself wanting to add unhealthy amounts of cream or sugar. 
8 ounces cold-brewed coffee, flavor of choice
4 ounces unsweetened almond milk
Pinch of nutmeg
Stevia (to taste)
Pinch of nutmeg
1 teaspoon coconut oil
Ice (to preference)
Mix cold brew coffee with almond milk, stevia and nutmeg. Add coconut oil and ice. Shake vigorously. Enjoy! 
Note: For lovers of creamy texture, the coconut oil adds healthy richness to your drink. Can be omitted but it's so good! 
Java SkinnyCino
Sometimes the answer to life's questions is a blended, creamy coffee dream. And this drink is seriously *chef's kiss*. 
1 packet Bistro Cappuccino Mix Thermo-Snack
4 ounces water
4 ounces unsweetened vanilla almond milk
Ice (to preference)
Stevia (to taste)
Mix Bistro Cappuccino packet, water, almond milk and ice. Add stevia to desired sweetness level. Blend to desired consistency. Serve in a chilled glass. 
Optional: Add peppermint extract for an extra-special kick. 
Spicy Chai Latte 
A warm and spicy chai latte can take any day from "blah" to BRILLIANT! This recipe is rich, spicy and oh-so decadent. The perfect sip for a refined morning indulgence. 
¼ teaspoon crushed black peppercorns 
8 ounces unsweetened chai concentrate
4 ounces unsweetened vanilla almond milk
1 teaspoon coconut oil
Stevia (to taste)
Crush black peppercorns in a grinder or with the back of a spoon until finely ground. In a pan, heat chai concentrate and almond milk until steaming. Add coconut oil and mix well. Add stevia to taste. Finally, add black peppercorns to your desired spice level. Serve hot in a mug or chill and service over ice for a wonderful iced latte.  
Note: Many companies now make unsweetened chai concentrate so you can have your latte AND drink it too.
*THE* Pink Drink for Spring
We are ready for delightful and bright drinks galore for Spring. This recipe takes the Insta-worthy Pink Drink and transforms it into an actually healthy refreshment. Now, THAT is something to Snap about. 
2 sachets Acai Berry tea (or fruit tea of choice)
4 ounces water
4 ounces 2% milk
Stevia (to taste)
1 strawberry, diced
Ice
Sprig of mint
Brew tea sachets for 10 minutes in four ounces of very hot water. Remove tea sachets. Add milk and stevia. Add ice and diced strawberry. Shake vigorously. Pour into chilled glass. Garnish with mint and enjoy!
Some Quick Notes: 
For these drinks, you can use any approved SlimGenics dairy or dairy substitute. Everyone's tastes are different but where indicated, the dairy option best suited to taste for the recipe has been listed. 
Feel free to use whichever sugar substitute that is approved. We love Stevia as it is from a natural source and has a very low impact on your gut microbiome.