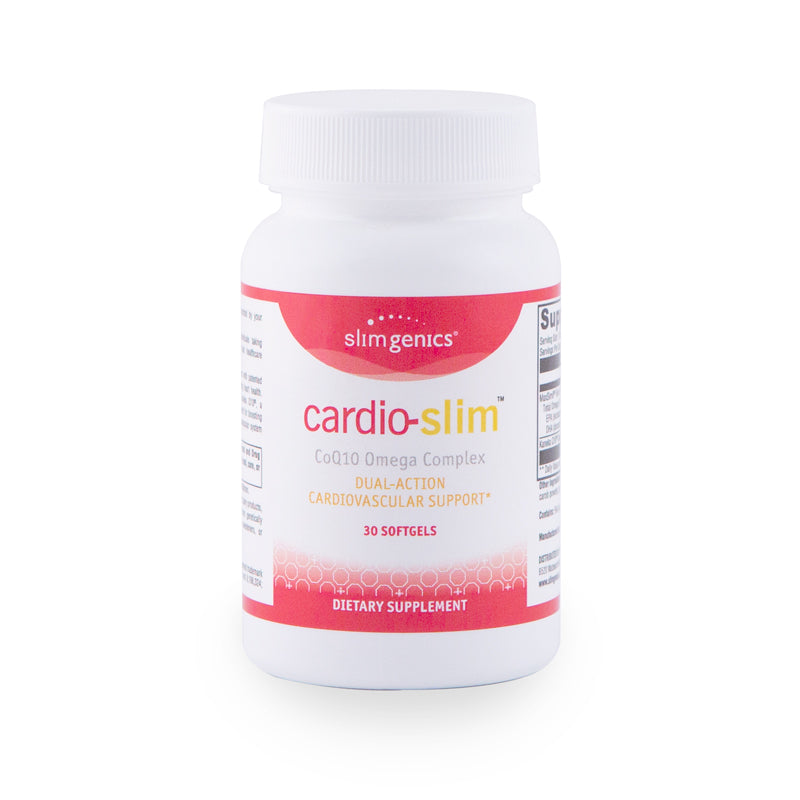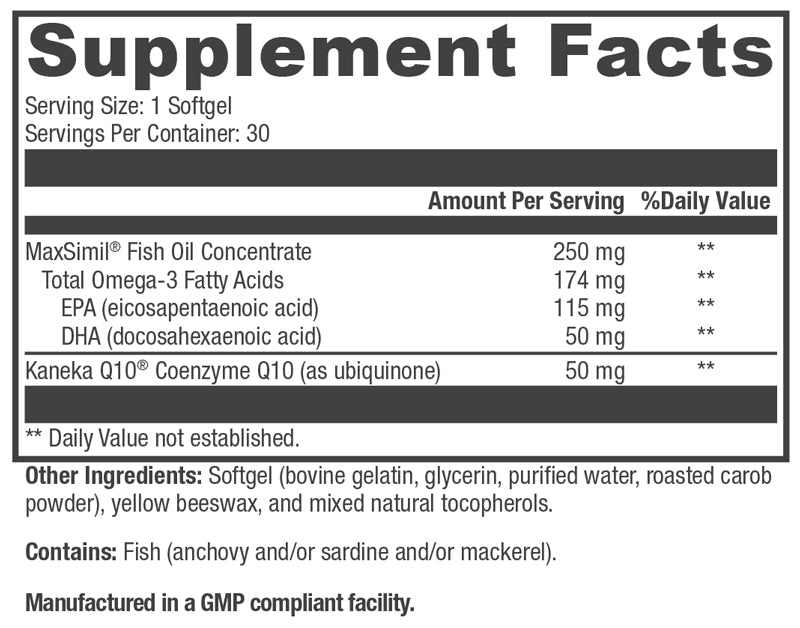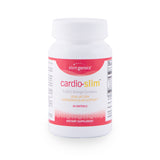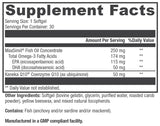 Cardio-Slim
Cardio-Slim CoQ10: Dual-Action Cardiovascular Support
Cardio-Slim is a specialized heart-health support solution that helps significantly reduce risk of heart attack while dramatically improving CoQ10 levels to combat depletion due to aging, medications such as statins, poor health, obesity and more. Each dose delivers nutraceutical-grade, micro-emulsified Kaneka® CoQ10 using patented, exclusive MaxSimil technology for 300% better absorption and enhanced energy production for your ultimate heart-health partner.*

30 Count

*These statements have not been evaluated by the Food and Drug Administration. This product is not intended to diagnose, treat, cure or prevent any disease.

One softgel taken twice per day.

Consult your healthcare practitioner prior to use.
Help Protect Your Heart From Stress and Damage
What if we told you that simple, common-sense steps can help protect your cardiovascular health now and for years to come? Protect your heart and body from increasing age-related damage with Cardio-Slim, a one-of-a-kind cardiovascular health solution utilizing exclusive patented ingredients designed to help significantly reduce risk of heart attack, restore healthy CoQ10 levels, maintain heart integrity and even provide cholesterol-lowering benefits. SlimGenics Cardio-Slim is your heart health partner!
Help Reduce Your Risk of Heart Attack*
As we age, our bodies become inefficient at making necessary proteins, amino acids and nutrients. Of these, CoQ10 levels deplete, leaving your heart and cardiovascular system vulnerable to worsening health and heart attacks. The patented Kaneka® CoQ10 in Cardio-Slim works to help dramatically improve CoQ10 levels in the body.*
Improve CoQ10 Levels to Help Protect Your Heart*
Micro-emulsified Kaneka® CoQ10 works synergistically with premium-quality, sustainably sourced Omega-3 fish oil to dramatically enhance absorption in your body. In clinical studies, subjects saw a 127% improvement in available Coq10 levels in the body.*
Dynamic Delivery System for Enhanced Absorption*
Cardio-Slim features MaxSimil fish oil, an ultra-pure monoglyceride concentrated fish oil developed as a unique delivery system to enhance absorption of lipid-based and lipid-soluble nutraceuticals such as CoQ10. Paired with CoQ10, the efficacy of absorption is dramatically enhanced. Each batch is five-star certified, non-GMO, certified sustainable from Scandinavia, and antibiotic-free.*
Aging Gracefully On YOUR Terms*
By properly supporting your cardiovascular health, you can help to slow and even improve worsening age-related damage. You deserve to age gracefully and on your own terms with Cardio-Slim.*
Check Out Our Best Sellers